ECE 547 / CS 591.04: Neural Networks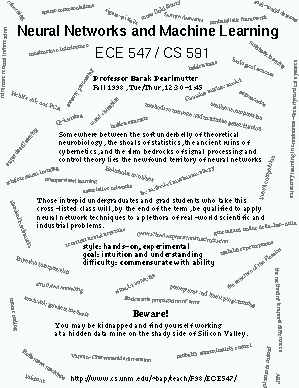 Instructors
Your guides in the discovery of your inner nature are:
Course Materials
Time: Fall 1998, Tue/Thur 12:30-1:45
Room: CE 103

Textbook: Neural Networks: a Comprehensive Foundation, Simon Haykin, 2nd ed, 1999, Prentice Hall.

Supplementary text: Reinforcement Learning: An Introduction, Richard S. Sutton and Andrew G. Barto, 1998, MIT Press. (Both are in the bookstore, on the CS shelf rather than the EECE shelf. Amazon.com also stocks both texts.)





Here are the links to RL techniques promised over and over again in lecture

Many assignments will use the MNIST Database of Handwritten Digits, a version of the MNIST digits database massaged by Yann LeCun. (A copy of the dataset will be available on the course machines.)
There is some code available for the class. Copies are also in /usr/local/pkg/ece547/ on the NIIEL and CIRT ESC Pod Linux clusters.

plotonline, a Linux program that will show a constantly-updated plot of a series of numbers (eg error rates) as they are generated, or a constantly-updated histogram.
Code for reading MNIST data, for writing PPM files, and for converting a bunch of PPM files to an animated GIF.

As the course progresses, we will add more code.
Computing Resources
On-campus linux boxes
For those who need to sit at a machine on campus, use the CIRT Escape Pod. There are dual-boot linux/NT machines there.
Cycle servers
For off-campus use (or terminal access from anywhere...) log into the NIIEL machines. They are named niielXX.cs.unm.edu where XX is a two-digit number between 01 and 20.
Comments

Both environments should be more or less identical. You should add /usr/local/pkg/ece547 to your path. We've put the MNIST database and all of the helper code there already.
The NIIEL machines are only available via ssh. See this site for a ssh client for Windows 95/NT
The NIIEL machines require special accounts which will be given out in class as soon as they are created.
The CIRT ESC Pod machines use your CIRT login account
There will certainly be small problems for the first two or three assignments. Please be patient as we work out the bugs!
Syllabus
My approach to teaching this sort of material is quite practical: I'd rather have you prove your mastery of something by implementing it or doing experiments with it than by answering some questions about it. Although there will be in-class quizzes, there will also be a strong programming and experimenal assignment component to the class.

Everyone in the class will do a final project (typically in teams of two). Neural networks are my research area, and I am very happy to help students who become particularly excited about some topic learn more about it.

Course materials including assignments will be posted on the web. (You can get extra credit by writing up html lecture notes in a timely fashion for me to post on the web.)
Topics to be covered
The nervous system and how neural networks emerged from the ooze
kinds of learning: supervised, unsupervised, reinforcement
perceptrons
backward propagation of error and multilayer perceptions
competitive learning
The EM algorithm
principle components analysis
information theoretic models
independent components analysis
Boltzmann machines (and simulated annealing and the Kulback-Liebler distance and the maximum likelihood criterion)
Helmholtz machines
fixedpoint networks, mean-field networks
recurrent networks
reinforcement learning using ARP units, policy/value iteration, Q-learning
Prerequisites
You will need to
have taken differential calculus (eg know the chain rule, know what a gradient is.)
be able to program a computer.
know a little linear algebra (eg know what the inverse of a matrix is, have some idea about eigenvalues.)
have some idea what a first-order differential equation is.
know or be able to quickly pick up what a probability distribution is.
I'm not a stickler about formal prereqs - effort can make up for a lot. But I expect you to not be scared of working through equations when they come up, or thinking in mathematical terms. Let's say ``mathematical training or appropriate mathematical maturity.''
Schedule
This syllabus will be revised as the semester progresses. Links to lecture notes, keys for the quizzes and problems sets, and other germane material will be added appropriate points below.

The book is much more signal-processing oriented than this course. You are not obligated to understand material unrelated to the lectures.
Tue
Aug 25
historical background
Thu
Aug 27
my idiosyncratic view of neural networks (ch 2)
Tue
Sep 1
perceptrons (ch 3) assignment
Thu
Sep 3
in-class demo of perceptron learning
Tue
Sep 8
perceptrons: histograms, Widrow's LMS, multiplicative updates
Thu
Sep 10
perceptrons: theoretical limitations, randomization
Tue
Sep 15
multilayer perceptrons and backpropagation of error (ch 4)
Thu
Sep 17
more backpropagation, assignment
Tue
Sep 22
Kolmogorov's theorem; debugging gradient optimization
Thu
Sep 24
autoassociative networks and dimmensionality reduction
Tue
Sep 29
overfitting and generalization
Thu
Oct 1
more generalization
Tue
Oct 6
VC dimension, assignment
Thu
Oct 8
PAC learning, VC dimension of MLPs
Tue
Oct 13
convergence rate of gradient descent
Thu
Oct 15
(Fall break)
Tue
Oct 20
The Bayesian approach to generalization
Thu
Oct 22
(continued) assignment
Tue
Oct 27
Gaussian mixture models, EM, LVQ
Thu
Oct 29
Hierarchical Mixtures of Experts
Tue
Nov 3
Boltzmann machines
Thu
Nov 5
Fixedpoint backpropagation, MFT Boltzmann take-home quiz
Tue
Nov 10
(Doug Eck) Reinforcement learning
Thu
Nov 12
(Doug Eck) (continued)
Tue
Nov 17
(Doug Eck) Q-learning
Thu
Nov 19
Helmholtz machines
Tue
Nov 24
Blind source separation
Thu
Nov 26
(Thanksgiving)
Tue
Dec 1
(Michael Zibulevsky) Support Vector Machines
Thu
Dec 3
(Doug Eck) Recurrent Nets
Tue
Dec 8
Backpropagation through time, RTRL
Thu
Dec 10
final project presentations
Thu
Dec 17
5pm, final exam due
---
Barak Pearlmutter <bap@cs.unm.edu>